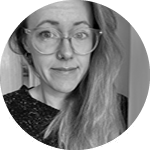 Hannah Reubin
Speech and Language Therapist
I graduated from the Speech and Language Therapy BSc programme in 2022. I began my studues as a mature student, before which, I was working with deaf and hearing-impaired adolescents and young adults as a sign language communicator and am Level 3 qualified in British Sign Language. I also supported students with a variety of complex learning needs to access the curriculum. It was during that time when I developed a passion for language and communication and working alongside Speech and Language Therapists in that role was what led me to apply for the programme at Essex.
During my time at University, I worked in a primary school, a hospital and completed a placement with Carrie providing therapy to children with speech language and communication needs. I love trying to make therapy as fun and engaging for children as possible and enjoy tailoring sessions to capture a child's specific interests as well as targeting their difficulties. I share Carrie's passion for working with families to support young people to reach their full potential.
Outside of my work life, I have a young daughter who keeps me busy, and I am a keen rock climber.
Abby Drew
Speech and Language Therapist
I completed the BSC Speech and Language Therapy at the University of Essex in 2022. Whilst studying at University, I experienced working with autistic children, children with speech sound disorders, language disorders, stammering and with cleft lip and/or palate. Further to this, I had the privilege of working with children in multiple settings; schools, hospitals, clinics, community and over tele-therapy.
I have a passion for coming alongside young people and their families to help them reach their full potential, meeting goals that are important for them and supporting them to feel confident in their communication. My particular areas of interest are speech sound disorders and dysfluency.
In my spare time I enjoy playing sports, keeping healthy and singing.
Beth Davison
Speech and Language Therapy Assistant
I am currently in my first year of an MSc in Speech and Language Therapy at the University of Essex. I arrived at the program as a mature student, prior to which I had spent a decade running my own business in voiceover and media presenting. It was seeing firsthand the importance of effective communication skills that first lead me to the work of SLTs and I am more passionate than ever in helping children and young people find their voices, and use them effectively.
During my time at university I have worked with nursery and reception children in a school setting, and have worked in a community clinic with a variety of young people with both speech, language and communication needs. I have a particular interest in language development for children with Autism; in addition to helping those with voice disorders.
Outside of my masters I love cooking, going to the cinema, and walking my lovely whippet Blue!